A DAY AT THE LIVE TICKER
2006-09-16 • After one week of world championship things are running pretty smoothly. Most of the volunteers of the web team are staying in the British Army's JHQ Rheindahlen facility. The transit accommodations are rather functional, but the four-bed rooms make for a communicative atmosphere. Breakfast is served 08:45 latest, usually a close call, especially if having had a beer or two in the Oranjehuis the previous evening.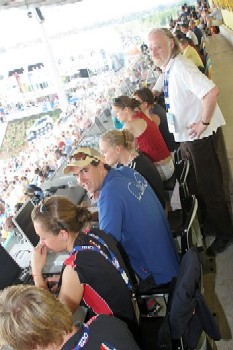 Transfer to the stadium is made by shuttle busses or by own car. First way goes to the farthest edge of the press tent, where the web team is located. Ben provides us the latest news of server breakdowns and other minor problems. Luckily weather has stayed dry, therefore the path is not muddy as it otherwise would be. On the main stand be are located at the very top, with a great look on the pitch, though the place tends to be windy once in a while. The fight for the LAN connection won, the live ticker can start.
Both the English and the German live ticker are manned with two people each, one to watch the match and comment on it, the other to type and adjust the ticker. Match reports usually arrive ten minutes before kick-off, just in time for the tickers to get started and preliminary reporting. After 30 WC matches seen, every move is analyzed automatically, as from high above the whole game-play looks like a simulation of some sort. After the match a report has to be written, and with luck thereafter is some time off for someone.
After the last match of the day an additional daily summary has to follow, and maybe another story like this one for example, of course both in English and German. Thanks to native speaker Vicky our sometimes school-like English language skills seem to be improving slowly. Close to midnight the work usually is done and the volunteers meet for a beer at the Oranjehuis, despite neighborhood rivalry with the Dutch the best place in the stadium.
For us the BDO WorldCup so far has been a lot of fun, even though a bit busy sometimes. We hope that besides the pure information our live ticker sometimes can also transport some of the atmosphere here in Mönchengladbach to you ;-)